13 Apr

Best Educational Apps for Toddlers / Preschoolers
What are the Best Educational Apps for Toddlers & Preschoolers?
I have kids who enjoy playing games on the ipad. When they do have limited time on the ipad, I like to know that the apps are mostly educational. I like to know what they play is also helping them learn, use their creative imagination, fun and appropriate skill level for their age…  So what are the best educational apps for Toddlers / Preschoolers?
As a designer I am also picky about the design of the app and how it teaches the child to learn.
When looking at apps I considered the following:
Fun
Safe for kids to play
Educational
In app purchases are limited to just addling levels or no in app purchases
No advertising e.g. Google Ads
Appropriate skill level
Different learning areas such as: ABCs, Colours, Numbers, Shapes, Patterns, Combinations, Memory etc
Our pic for the best apps for Toddlers / Preschoolers?
Here are a list of my favourite educational apps for kids ageing between 2-5 years old (toddlers – preschoolers) – listed in no particular order.
Lumikids has a great range of apps that help teach kids patterns, colour recognition, memory etc.  No in app purchases and safe for kids to play. All apps are free of charge.
LumiKids Park
Explore this giggle-filled neighborhood park, with opportunities to use skills like sorting, visual motor-coordination and attention.
LumiKids Beach
Enjoy fun in the sun while exploring activities that use fine motor-coordination, response inhibition, auditory processing and sharing.
LumiKids Backyard
Discover a summertime outdoor adventure while learning about weights and quantities, exploring spatial relationships and using logical reasoning.
Mini Prep is designed for Preschoolers ages 2-5 to help teach them the alphabet, numbers 1-10, and colours.  This app has Australian voice overs and is nice and easy to use. No in app purchases.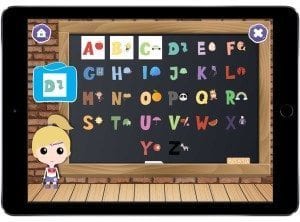 Words with Ibbleobble
Great for teaching kids how to learn words and grow their vocabulary. An interesting addition to this app is that ibbleobble says "Ibbleobble's simplistic format is also an ideal solution for children on the autistic spectrum.".  If you have older kids they also have some great apps such as addition, multiply, division and more! Great set of apps for learning!  Love their view on making it fun for kids to learn, strengthen problem-solving skills and the apps are safe to play… no ads! Got to love that.
Tiny Hands has a huge range of apps for kids – just search 'Tiny Hands' in your app store to view their whole range.
Their apps are split up based on age e.g 1+ 2+ and 3+  each increasing the difficulty of the activity.  There are lite free versions of the app which give you the first few activities free, then if you like the app you can purchase the full version for the complete game selection.  A few of these apps my kids seem to love and I have ended up getting the full versions as I was impress with what they were able to achieve.
Tiny Hands apps are focused around Sorting, Towers, Connecting the Dots, Words, patterns, shapes and much more.
Here are some quick links to some of the Tiny Hands Apps:
By Little Big Thinkers
Great app to learn letters and start learning how to spell words.
Simple ways to learn the alphabet.
This is a little more advance, but starting to teach kids numbers and simple maths.
Another app by 22Learn (they have a large range of apps) teaching Preschoolers the alphabet.
Those would be my top picks. Here are a few more that are good, but not quite my top pics due to design but they are still educational apps for kids you can try out:
Play123 
Shapes, colors and numbers are alive!!!
Are animations the only things on the pad for your kids? Have you been waiting for the perfect educational play? Download CJ EDUCATIONS' PLAY123 now and offer your kids a brand new learning experience.
PLAY123 is a learning application where your kids can play with all shapes, colors and numbers of their imagination, using various functions of the pad. They can throw, draw, roll, stack, turn, and more.
iPhone                                iPad
Play LAB (iPad only, in-app purchases)
PLAY LAB lets the whole family enjoy playing with shapes, colors, and numbers. Kids can learn the basic concepts of shapes, colors, and numbers while developing sensitivity and creativity.
PLAY – Enjoy spinning and matching the shapes.
STUDY – Understand the basic concepts of shapes, colors, and numbers.
THINK – Stimulate the senses and imagination through activities involving various colors and sounds.
Do you or your kids have a favourite educational app that is not listed above? Would love to know what you think and feel free to add any apps to this list!